Speaker Carpet
comes in five colors:
Black - Shadow - Grey Tweed - Charcoal - Light Grey
This carpet has a low melt fiber for strength, stability and flexibility.
Carpet is manufactured on two different sized rolls:
48 inches wide by 150 feet long and 72 inches wide by 150 feet long.
We sell carpet by the roll.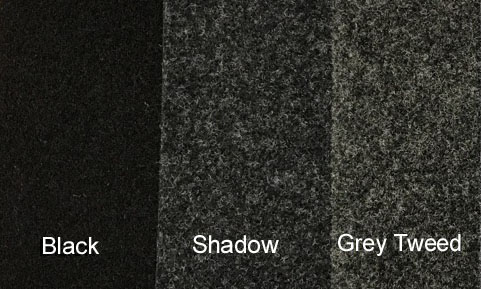 C0o


Carpet & Trunk Liner ship from any one of our warehouses which are located in Hampton, NH & Los Angeles, CA.

Use our Spectrum Spray Adhesive to bond these products to your speaker box and other surfaces.
Part #

Description

Pricing
per roll

ECB

Black Speaker Carpet 48" wide by 150' long
Made in U.S.A.

$177.00

ECB2

Black Speaker Carpet 72" wide by 150' long
Made in U.S.A.

$241.00







ECS

Shadow Speaker Carpet 48" wide by 150' long
Made in U.S.A.
$177.00
ECS2

Shadow Speaker Carpet 72" wide by 150' long
Made in U.S.A.
$241.00







ECL

Grey Tweed Speaker Carpet 48" wide by 150' long
Made in U.S.A.

$177.00

ECL2

Grey Tweed Speaker Carpet 72" wide by 150' long
Made in U.S.A.

$241.00